The scrumptious Chicken of the Sea Salmon Patty Recipe is so tender and juicy that you will definitely grasp and eat all of it quickly. It is certainly the most popular and recipe among Salmon lovers. Salmon, due to its extreme taste and nutritional benefits is always a delight to have. It is bombarded with nutrients and serves as the best source of Omega-3, Vitamins, and Proteins that help strengthen the body parts and organs and keep you healthy for long. In addition, salmon does not contain extra fats and is an easier summer entrée for your family and guests.
If you like seafood, Salmon Patties can be the whole new tasty deal for enjoying a fish-based dinner. In this recipe, the Salmon Patty is made with pantry ingredients designed for easy weeknight meals when you are on a tight schedule. Served with a unique combination of spices and herbs, this Chicken of the Sea Salmon Patty Recipe fulfills your ultimate desire of enjoying a crunchy, crispy, and baked seafood treat.
Chicken of the Sea Salmon Patty Recipe
Ingredients
6

oz

Chicken of the sea boneless skinless pink Salmon.

¼

cup

Green Onion (finely chopped).

¼

cup

Mayonnaise.

1

tbsp

Lemon Juice.

½

tsp

Garlic Powder.

¼

cup

Red Bell Pepper (finely chopped).

2

dashes

Cayenne Pepper.

1

Medium Egg (beaten).

1

cup

Seasoned Bread Crumbs.

3

tbsp

Butter or Canola Oil.

¼

tsp

Seasoned Salt.
Instructions
Preparation:
First, take a bowl and mix Pink Salmon, Green Onion, Mayonnaise, Lemon Juice, Garlic Powder, Red Bell Pepper, and Cayenne Pepper.

Add the beaten egg and 1/3 cup of Breadcrumbs in it and mix well.

Make four balls of this mixture and roll these Salmon balls in the remaining Bread Crumbs. Then flatten these balls into patties about 1/2 inch thick.

Melt butter in a skillet and heat over the oven on medium flame.

Fry each side of patties for 3 to 4 minutes until they turn golden brown.
Recommended Ingredients
Can you Store Salmon Patty?
You can refrigerate the leftovers of Salmon Patties for up to 2 days and even freeze the Patties to be used later for up to 2 months. Additionally, thawed Salmon can be used in salads and substitutes for canned Salmon in Sandwiches, Wraps, Casseroles, or Pasta.
Grilling Salmon Patties With Foil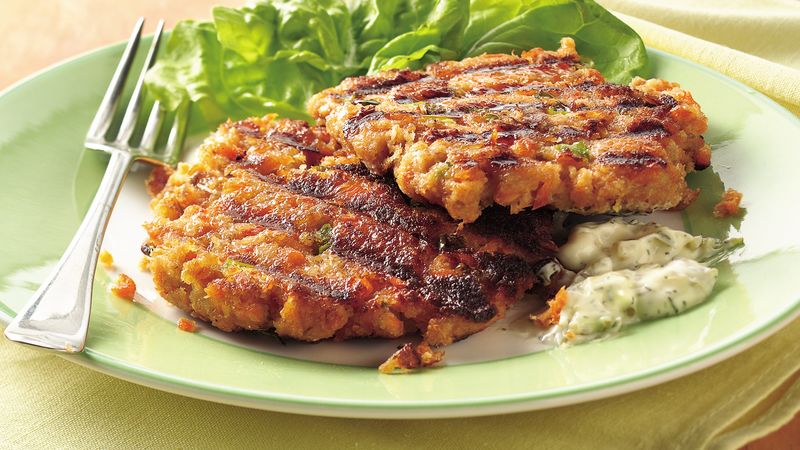 If you want to add a more tenderness, juiciness, and unique taste to Salmon, try grilling the patties with a foil cover. Make a packet around the Salmon Patty using a foil sheet. It traps the moisture inside, and consequently, the Salmon Patty turns out to be perfectly flaky and tender.
Chicken of the Sea Salmon Patty Recipe; Calorie Count
Pink Salmon (6 oz) – 110 cal
Green Onion (1/4 cup) – 8 cal
Mayonnaise (1/4 cup) – 229 cal
Lemon Juice (1 tbsp) – 4 cal
Garlic Powder (1/2 tsp) – 5 cal
Red Bell Pepper (1/4 cup) – 10 cal
Cayenne Pepper (2 dashes) – 1 cal
Egg (1 medium) – 66 cal
Seasoned Breadcrumbs (1 cup) – 427 cal
Butter (3 tbsp) – 306 cal
Nutritional Value
Carbohydrates – 4 g
Dietary Fibers – 0 g
Protein – 7 g
Fat – 90 g
Saturated Fat – 2 g
Sugars – 1 g
Cholesterol – 69 mg
Sodium – 137 mg
Vitamin A – 4%
Vitamin C – 1%
Calcium – 2%
Iron – 3%
Recommended Recipes